The Finesse Collection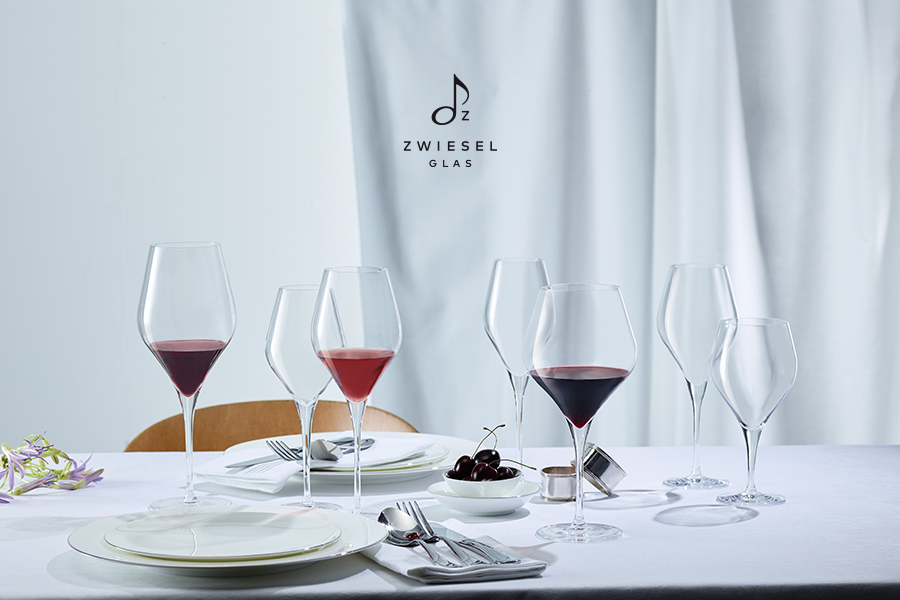 Finesse and elegance distinguish the gourmet series of stemmed glasses FINESSE. The fine stem of the glass fluently attaches itself to the goblet and creates the range of elegant, timeless contours. Regardless of the type of table: festive or classically laid-it adorns both. FINESSE provides the particular fine touch to any kind of arrangement. A distinctive bend in the goblet perfectly supports the different types of wine and grape and provides for a generous surface to develop the soft bouquet. The narrow tapered chimney additionally bundles the scent in the glass and allows for an intensive and authentic sensory perception of the individual aromas. Seven sizes – Bordeaux, red wine, Burgundy, Chardonnay, Riesling, Champagne and water – offer the perfect companion for each type of wine and perfectly map the corresponding aromas.
FINESSE is made of TRITAN® PROTECT, a technology which protects the glass double as much: A specially hardened and tempered stem surface considerably increases the breaking strength and resistance. The glass is even better protected when it is tilting over or in case of strong stress when placing it into the dishwasher.
AIR / AIR SENSE COLLECTION
BISTRO LINE COLLECTION
CLASSICO COLLECTION
CRU CLASSIC COLLECTION
DIVA COLLECTION
FORTISSIMO COLLECTION
MONDIAL COLLECTION
PURE COLLECTION
SENSA COLLECTION
TASTE COLLECTION
VINA COLLECTION
BANQUET COLLECTION
CANTO COLLECTION
IVENTO COLLECTION
PRIZMA COLLECTION
VERVINO COLLECTION

Enhance Your Brand with Personalised Engraving

Add a touch of distinction to your brand through personalised engraving, adding character to your brand.
Placing your logo in your customers hand is all the more reason to use glassware of the quality that Schott Zwiesel offers.
Click here to read more about the benefits of personalised glassware.
Contact Frank on frank@houseware.ie or call +353 (0)1 825 2860 for more details and quotations.