The Basic Bar Vodka Glass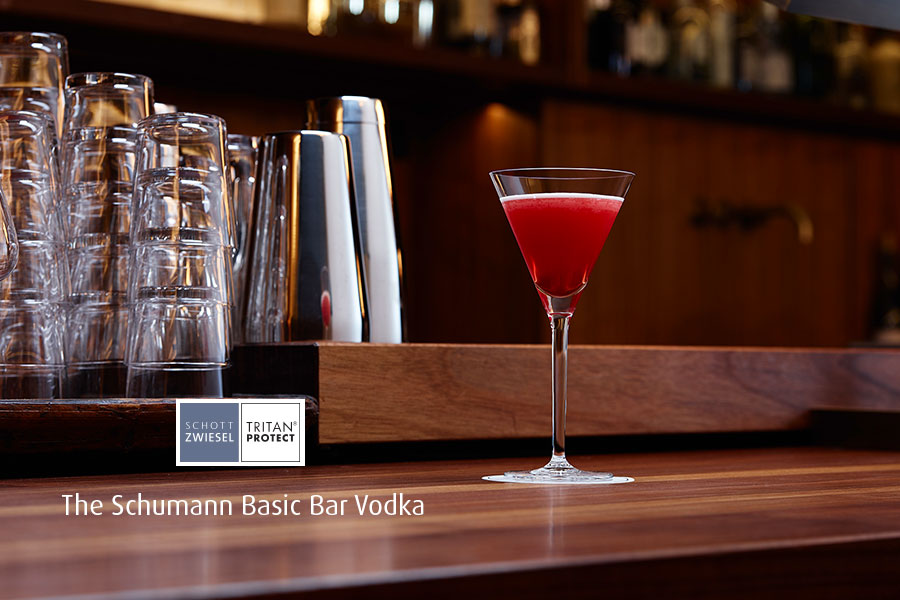 The Schumann Basic Bar Vodka Glass
The Tritan crystal manufactured Schott Zwiesel, Schumann Basic Bar Vodka Glass. Bar legend Charles Schumann has developed this range together with SCHOTT ZWIESEL.   A 17 piece basic bar selection with new and classic shapes. The philosophy behind the basic bar selection is simple and stylish.
The beautifully shaped glass allows each sip to reach its fullest expression.
Made from a non-lead material made of titanium and zirconium oxide which resists breakage, chipping and scratching and they are also thermal shock resistant. The patented Tritan Protect method adds longevity to your investment in quality glassware.
Schott Zwiesel's Tritan Bar Special glasses offer exquisite crystal glassware at a reasonable price.
They are completely dishwasher safe; will not etch, cloud or discolor for the life of the glass.
Although Dishwasher safe, do not force bowl tightly over rack prongs! When hand washing or drying, do not twist stem and bowl while holding the other tightly.
Designed for Schott Zwiesel by Charles Schumann
Charles Schumann, proprietor of Munich's legendary Schumann's Bar and author of the international classics American Bar, first published in 1984, has set standards for decades. He explains his motivations for developing the Basic bar Selection series of glasses;
"I wanted to do something new. Bar culture is more diverse nowadays and the international influence has become much stronger. That's why it's important to also offer new interpretations alongside familiar classics."
Charles Schumann is distinguished by his many years of experience, as well as by the courage to remain loyal to his own principles while repeatedly questioning and optimizing traditional ideas. The Schott Zwiesel brand embodies these same values.
The Basic Bar Selection line consists of tried-and-tested classics for the bar and also offers, with regard to its interplay of function and design, new sizes and accessories. The seventeen-part Basic Bar Selection series has been designed so that each glass highlights the specific character of the drink that's poured into and sipped from it.
Stemless glasses- Three conical glasses, six sizes, each tastefully designed with an intentionally thick bottom, form the basis for whiskey (whiskey tumbler), cocktails (tumbler Allaround) and long drinks (tumbler long drink). Alternately, three conically(stemless glass/ Soft Drink 1-3) tapering stemless glasses with slim walls and thinner bases are each predestined, depending on the glass's size, for freshly squeezed juices, vitamin shakes and nonalcoholic long drinks, as well as for water and latte macchiato.
SEE THE CHARLES SCHUMANN BASIC BAR COLLECTION

SEE THE SCHOTT ZWIESEL COCKTAIL GLASSES
SEE THE BASIC BAR ALL ROUND GLASS
SEE THE GIN & TONIC GLASS
SEE THE BASIC BAR VODKA GLASS
SEE THE BASIC BAR CHAMPAGNE GLASS
SEE THE BASIC BAR PILSNER GLASS
SEE THE BANQUET BAR GLASSES 
SEE THE SPECIAL MARGARITA GLASSES
SEE THE WHISKEY NOSING GLASS
SEE THE BASIC BAR GLASSES 
SEE THE BEER BASIC GLASSES 
SEE THE BISTRO JUGS 
SEE THE CONVENTION GLASSES 
SEE THE PARIS JUGS
SEE THE FRESCA WATER CARAFE
SEE THE PURE COGNAC GLASS 
SEE THE VINA TOUCH COLLECTION 
SEE THE TEN DEGREE GLASS AND JUG 
SEE THE EXCLUSIVE HOMMAGE COLLECTION