The Classico Decanter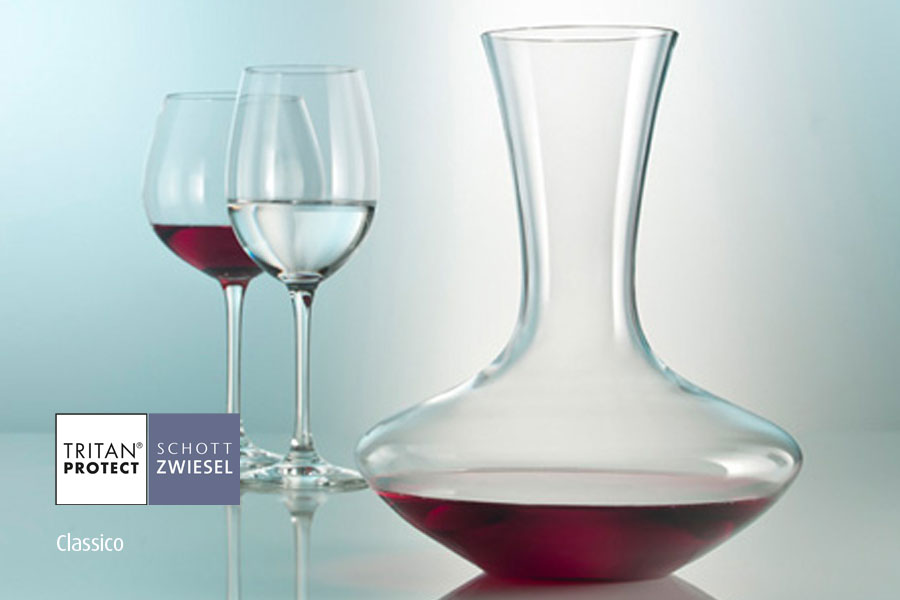 The Schott Zwiesel Classico decanter is the perfect decanter for your daily needs. It's durable and elegant. "This is a no-nonsense, functional decanter with no dripping nor difficulty of pouring-out-the-last-drop problems as some other-style decanters do. Neither is it thick and clunky, but durable due to the titanium content." This elegant decanter is designed to coax the full flavors out of your favorite wines. Decanting is recommended when enjoying older wines to remove sediment, and when enjoying young wines to expose the wine to oxygen.
Whether you are looking to expose young wines to oxygen or remove aged wines of their sediment, the Schott Zwiesel Tritan Classico Decanter offers an elegant display from which to serve and enhance your wine. Using its innovative Tritan technology, Schott Zwiesel ensures that its glassware is not only break, scratch and etch resistant but also unsurpassed in brilliance and clarity. Made of lead-free crystal, this decanter is instead composed of durable components such as titanium during a one-of-a-kind tempering process.
THE AUDIENCE DECANTER 
THE CRU CLASSIC DECANTER 
THE DIVA DECANTER 
THE FINE DECANTER 
THE PARIS JUGS 
THE PURE CARAFES 
THE PURE DECANTERS 
THE TOSSA DECANTERS 
THE VINAO DECANTERS 
WINE TASTINGS 

Return to Carafes and Decanters