The Cariz and Hero Decanters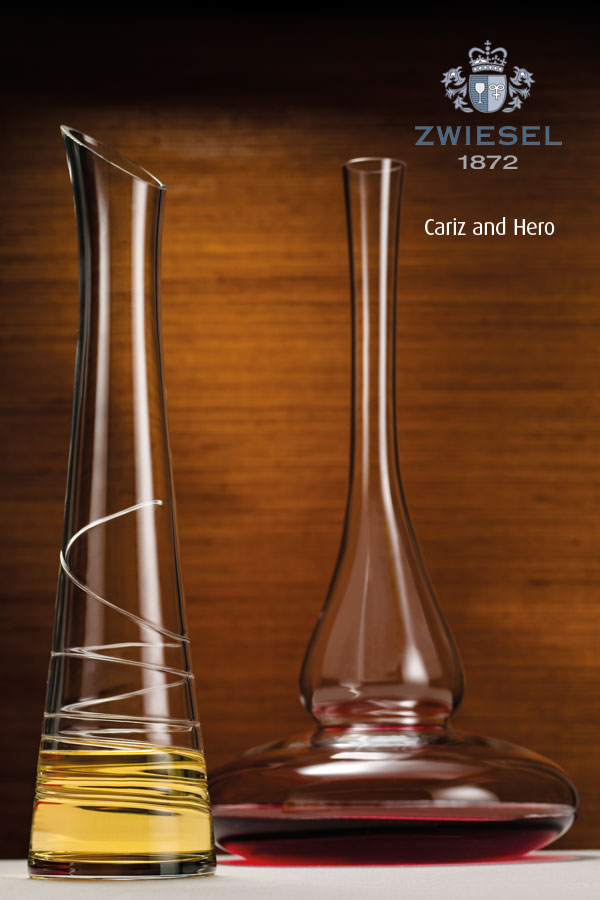 CARIZ – Impressive relation of shape and function
CARIZ reminds of wild organic structures from nature though providing a balanced picture due to its clear, austere form. A freely superimposed glass thread by which the colour of the wine miraculously comes to its own by light reflection makes each decanter unique. The internal structure of the elevated glass thread in the decanter CARIZ optimally aerates the wine when pouring it in the decanter as well as when serving it. The mouth-blown decanter impressively stages enjoyment when drinking wine at table.
HERO – Opulence for perfect enjoyment of wine
HERO is an opulent, mouth-blown decanter which initiates the formal dialogue of quiet and movement. The neck rising up high seems to float above the sweeping basic form. HERO allows the opening of important wines for perfect enjoyment when drinking wine in a spectacular way by means of a broad surface mirror. Formed in expert craftsmanship, HERO is an aesthetically balanced and oenologically functional eyecatcher.

SEE THE CASSAS DECANTERS
SEE THE CIRQUO DECANTER
SEE THE D'ORO DECANTER
SEE THE FINO DECANTER
SEE THE FUON AND MAR DECANTERS
SEE THE ILVINA, VANITY AND SIGNO DECANTERS
SEE THE LIVO, TIAN, FUON AND MAR DECANTERS
SEE THE FIRST DECANTER
SEE THE WINE CLASSICS DECANTER