Heritage, The Ultimate Afternoon Tea Service
Heritage, Catering for everyone!
Since its beginning Heritage has continually designed and manufactured new products each and every month and now has over 5000 different items to entice its customers. Here is your Heritage Afternoon Tea!
Heritage Collection offers a complete tabletop range for any venue and in the past 2 years has specifically designed products for the Brassiere and Gastro Pub market.
From wooden steak boards to unusual oven to tableware, from silverware to Bone China, Heritage Collection products will cover all types of food menu and style of venue, from classic to contemporary.
Heritage Collection, the Company
Manufacturing in the heart of Birmingham since 1976. Over this time their products have been chosen to grace tables around the world from the most famous chefs, hotels, ocean liners, royal palaces to iconic buildings such as the Gherkin and the Burj Al Arab in Dubai.
The company began as Heritage Silverware Ltd, and has since evolved into the Heritage Collection which now offers a complete tabletop solution in glass, china, porcelain, silver, stainless steel and wood. 
As a specialist manufacturer in bespoke hotelware we are able to work extremely closely with our clients to create a range of unique pieces, to produce a bespoke,comprehensive range of afternoon tea items.
Full supply of glass
Fine Bone china with rich decorative patterns, hand gilded, personalised embellishment
A complete range of silverware
Personalised teasets
Area specific cutlery designs
Turned wood coasters and place mats
Traditional and contemporary products
Bar and restaurant
Bespoke stainless steel designs
Heritage Afternoon Tea
Afternoon Tea at the Lanesborough
The hotel has won many awards since it opened its doors in 1990, and Heritage is honoured to have been chosen to manufacture both silverware and Bone China for this outstanding hotel.
Afternoon Tea at Brown's Hotel
Sophistication and classic English style are the hallmarks of the legendary Brown's hotel, which joined The Rocco Forte Collection of the luxury hotels on 3rd July 2003 Working closely with the Rocco Forte Collection's Director of Design, Heritage manufactured all the special bone china and silverware that helps make enjoying Afternoon tea at the hotel such a wonderful experience and one that should not be missed.
Close House Hotel
As a specialist manufacturer in bespoke hotelware we are able to work extremely closely with our clients.
The following 4 pages showcase our ability to create a range of unique pieces. Incorporating the clients desire to promote the Close House prancing horse, which we produced as a special feature on the silver tea set, along with a bespoke fine bone china decoration.
The outcome was a comprehensive range of afternoon tea items which are unique to the Close House Hotel.
The Ritz London
Afternoon Tea at the Ritz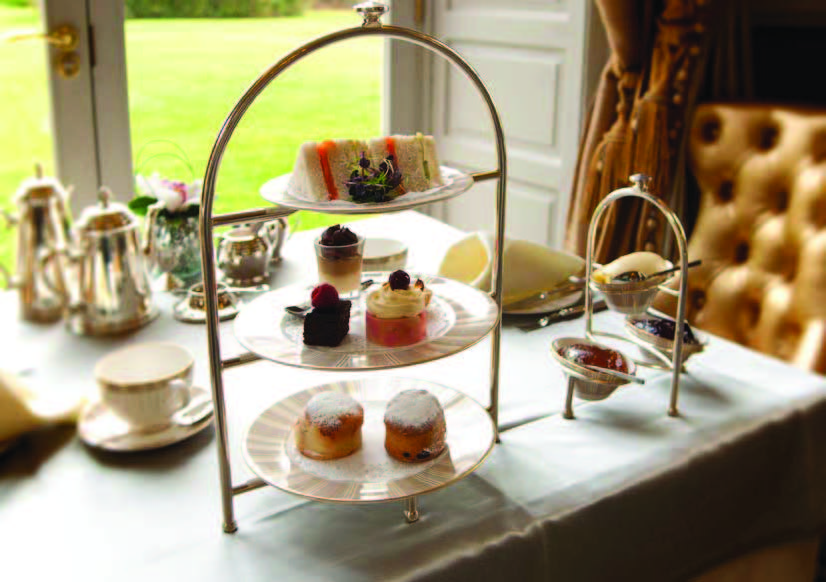 As a nominated supplier to the Ritz for over 30 years, we have over this period produced numerous new products to sit along side exist- ing designs that the hotel uses. Proudly we offer them a full supply of glass (etched with their lion crest), Fine Bone china with several different rich decorative patterns (hand gilded with gold edges and embellished with gold lion crests), a complete range of silverware (teasets personalised with their own silver lion motif), several cutlery designs for each individual area, even beautiful turned wood coasters and place mats.
The Gherkin 40/30
With our large collection of both traditional and contemporary products we have been able to manufacture some wonderful pieces for the bar and restaurant at the Gherkin. Along with some bespoke stainless steel designs for their Champagne balcony, tailored to fit in with the building and allow guests to enjoy the stunning views.
Heritage
Afternoon Tea