Drop Protect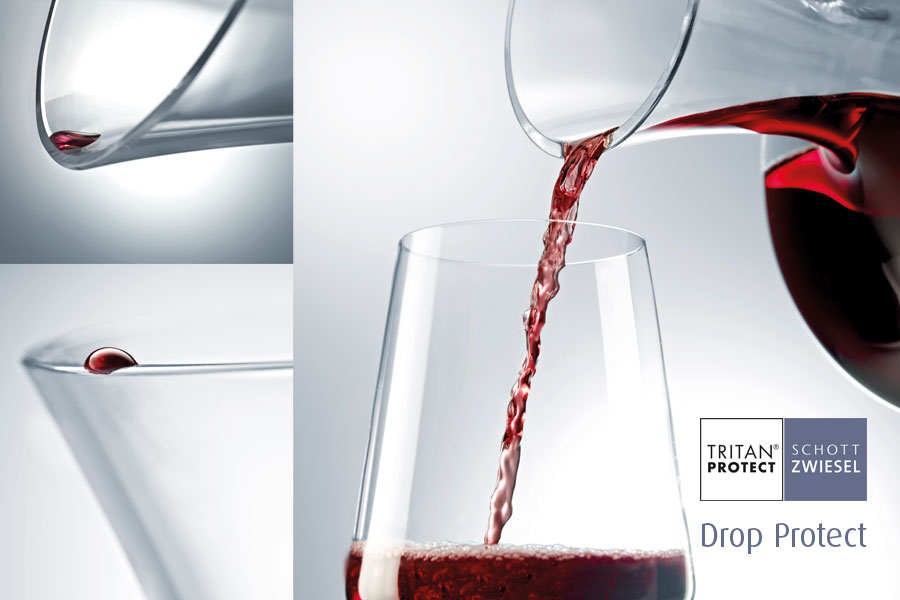 Drops staining the table cloth? Usually you need skill and luck with most decanters and carafes however, ZWIESEL KRISTALLGLAS has the solution, Drop Protect!
"Rotate the bottom side of the bottle away from you as you deliberately stop pouring. This trick does require some practice for perfection but it should throw any last tiny drips off route to the back of the bottle. You can also use a napkin or paper towel to catch drips."
Drop Protect
Combining science and research our friends in the Fraunhofer Institute in Germany came up with a liquid-repellent surface called DROP PROTECT to prevent the formation of drops on the outside of the glass!
The drip is kept on the decanter or carafe's bezel because of this coating, effectively preventing stains. DROP PROTECT is dishwasher-proof! Which means that our decanters and carafes deliver in form and functionality.  ZWIESEL KRISTALLGLAS delivers solutions for handling problems.
Why not have a word with Frank about how we can help with your glassware and presentation requirements? Contact Us for more information on the quality, durable and functional Schott Zwiesel range. Why not benefit from Frank's many years of experience in delivering for the best of the best in the Irish Hotel and Restaurant hospitality.